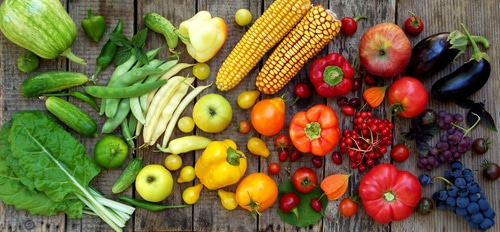 Antioxidant Rich Foods
Antioxidants are another fast growing trend in health foods and supplement world, but for most people their benefits are vague and unclear.
A big buzzword in the food industry right now is "Super foods." Everything from acai to wheatgrass to blueberries and maca. Foods that are built up to be these amazing little health savers, packed with super nutrients…and usually from far away places. Some of the health claims may be a bit overblown but they are undeniably high in antioxidants.
The Dangers Of Oxidation In The Body
Antioxidants are molecules that help decrease oxidation in the body. Oxidation happens when we eat foods like charred red meats, over-heated oils (where the fatty acids break down and become carcinogenic), poor quality processed or fast foods, or even environmental factors. Over time, too much oxidation in the body can cause cell damage which can potentially lead to cancers, Alzheimer's, diabetes, cardiovascular disease and cell death. Of course, when oxidation is potentiated by dietary inputs, that makes it all the more preventable.  By changing our diet to include foods that fight against this and protect cells against oxidative damage we are able to reverse some of the negative effects.
The quintessential recommendation of "eat more fruits and vegetables" applies here, however if we're going to be specific about anti-oxidant rich inputs, we can be a little more discerning about what may be your best choices.
Here are some of the top choices:
Red Grapes
Blueberries
Blackberries
Broccoli
Carrots
Beets
Spinach
Eat The Rainbow
Notice we're seeing a lot vibrant color in these foods. As a general rule, the more color you can eat in your daily diet, the more antioxidants you're consuming with these foods, including essential vitamins like vitamin A, vitamin C and vitamin E. There is always more benefit to eating whole foods that contain these vitamins and antioxidants rather than just supplementing. When we eat whole foods, we are eating a perfected balance of vitamins, minerals, nutrients, fiber, antioxidants, and other macromolecules that make it much easier for the body to break down. When we strictly supplement, it's easy to over-do.  It can also become difficult for the body to recognize and utilize these particles without their accompanying nutrients.
Incorporating Antioxidant Rich Foods Into Your Diet
Many of these antioxidant rich foods make for a great snack during the day. Munching on grapes and blueberries (about 1/2 a cup) is a perfect introduction to getting extra antioxidants.  Sliced carrots and broccoli (with a little hummus) are yummy any time of year. Adding 1/4 cup blackberries to some morning yogurt is delicious. Even when some of these fruits and vegetables are out of season, you can still get benefit from them by purchasing them frozen if you need to.
For Further Reading:
Antioxidants and Health: An Introduction
Antioxidants and Cancer Prevention
If you need more support or inspiration regarding antioxidant rich foods, contact our office at (804) 977-2634 to book an appointment with our Nutritionist Lindsay Kluge. There are countless ways to incorporate preventative medicine into your diet and antioxidant rich foods are a perfect place to start!
About The Author

Lindsay Kluge is a Clinical Herbalist & Licensed Dietitian Nutritionist and received her Masters of Science degree in Herbal Medicine from the Maryland University of Integrative Health in 2012. She has been with Richmond Natural Medicine since 2013, and specializes in therapeutic holistic nutrition, circadian rhythm balance and sleep physiology, digestion, and Ayurvedic nutrition. She offers individualized nutrition and herbal medicine consultations that include meal planning support, custom compounded herbal formulas, nutrition guidance and general wellness support.  Learn more about services that Lindsay offers at Richmond Natural Medicine by clicking HERE.