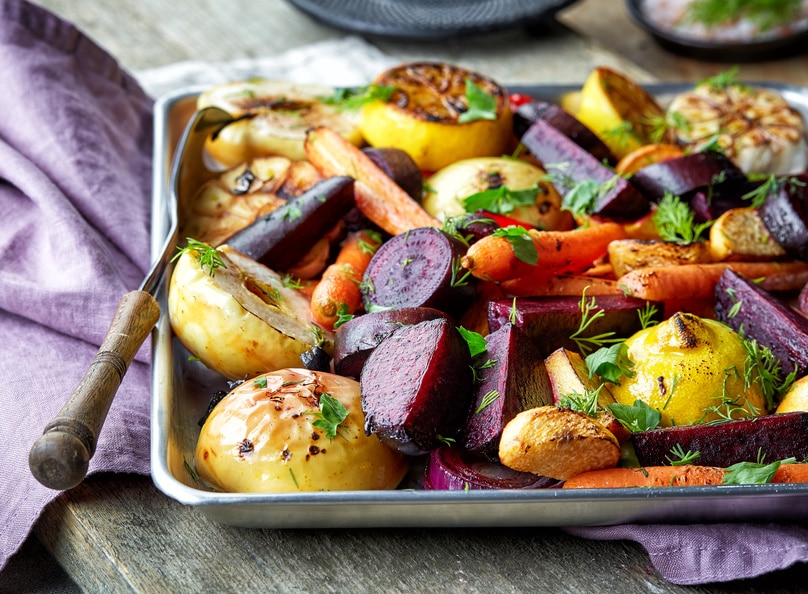 Batch Cooking | The Basics of Meal Planning & Getting Started
Meal planning and batch cooking are some of the most efficient and successful practices that I use with my nutrition clients.  So many people are intimidated by this practice, but desperately want to get the hang of it.
When I present meal planning methods to individuals, I usually make adjustments and tweaks to each plan to ensure that the recommendations are sustainable and not overwhelming.  Overtime we add to the meal planning routine. This way it becomes second nature, like a weekly habit that's easy to remember.  As a result, people start to develop their go-to arsenal of recipes that they can enjoy over and over again. The one recommendation that always remains the same is the practice of Batch Cooking!
Batch cooking is the practice of picking 2-4 meals (or more!) to prepare before your week begins so that you can rely on these already-made healthy meals to tide you through busier weeknights.  I like to get an idea of where folks are struggling the most with their meals before making recommendations as this tends to be a little different for each person.  
Below are some of my tips and suggestions that will help you get started with meal prepping and batch cooking.
Beginning: Take Notes
What is your biggest obstacle in cooking for yourself?

This is an essential question you need to ask yourself  before you start meal planning and batch cooking. Do you not even know what to make? Do you hate cooking? Do you feel like you have no time during the week to even think about cooking? Does you family all eat different things? Discovering and facing your obstacles is key to making meal prep sustainable and eliminating roadblocks. Your nutrition plan / meal planning practice should account for these obstacles and include some strategies to combat them.

Which meals do you have the hardest time eating / keeping healthy?

Are you rushing out the door before eating breakfast? Is dinner time so jam packed that cooking is out of the question? Are you eating every lunch out while you're at work? Pick the meals you're struggling with the most. For example, if you're too rushed to eat a healthy breakfast every morning, consider batch cooking a vegetable rich quiche or frittata, or make some hearty morning muffins and pre-boil some eggs for a quick & easy breakfast. If you're struggling to get vegetables on your plate for lunches and dinner, consider batch cooking large pans of roasted root vegetables and add a serving to every meal!

What are some of your favorite meals to eat?

Make sure that you're batch cooking foods meals you love to eat! If you love lasagna, make a big pan of vegetable rich, hearty lasagna for lunches or dinner. If you love salads, make 5

mason jar salads

for lunch every day. If you love soups and stews in the winter time, make a big crock pot stew on Sunday and enjoy it throughout the week. Identifying your favorite types of meals will help narrow your search for good recipes and keep you motivated to continue prepping and planning.

When can you carve out 1-2 hours, once per week to devote to batch prepping foods?

Meal planning takes just that –

planning

. You need to devote time in your weekly schedule for grocery shopping and batch cooking your meals. Look at your calendar and

schedule

this time. Whether it's on a Saturday morning or a Wednesday night (it doesn't always have to be the same time every single week), just make sure you've got time to make your meals. This is also loads of fun to do with with your kids, partner or a friend!
What You'll Need
Storage containers. I prefer using glass pyrex, but you can use anything you have on hand to store your meals. Mason jars work great for soups and salads.
Action:
Gather at least 7-10 recipes that you'd like to try. Pinterest is an excellent place to gather and store recipes!

Pick 2 recipes and make sure you do your grocery shopping beforehand.

Start out batch prepping just 2 of these recipes to get a feel for the habit.

Once meals are batch prepped, store in either individual serving containers or in a large dish to serve during busier night. You can also make two of the same recipes at the same time and keep one in the freezer for another week.
If you need individualized support with meal planning and creating a sustainable nutrition plan that works for you and your lifestyle, consider scheduling an appointment with our nutritionist Lindsay Kluge.  
Additional Resources:
5 Quick Breakfast Ideas
Transform your Kitchen into a Positive Space
Holistic Nutrition: Food as Medicine for a Lifetime
Transitioning to a Gluten Free Diet
About the Author:
Lindsay Kluge is a Clinical Herbalist & Licensed Dietitian Nutritionist and received her Masters of Science degree in Herbal Medicine from the Maryland University of Integrative Health in 2012. She has been with Richmond Natural Medicine since 2013, and specializes in therapeutic holistic nutrition, circadian rhythm balance and sleep physiology, digestion, and Ayurvedic nutrition. She offers individualized nutrition and herbal medicine consultations that include meal planning support, custom compounded herbal formulas, nutrition guidance and general wellness support.  Learn more about services that Lindsay offers at Richmond Natural Medicine by clicking HERE.