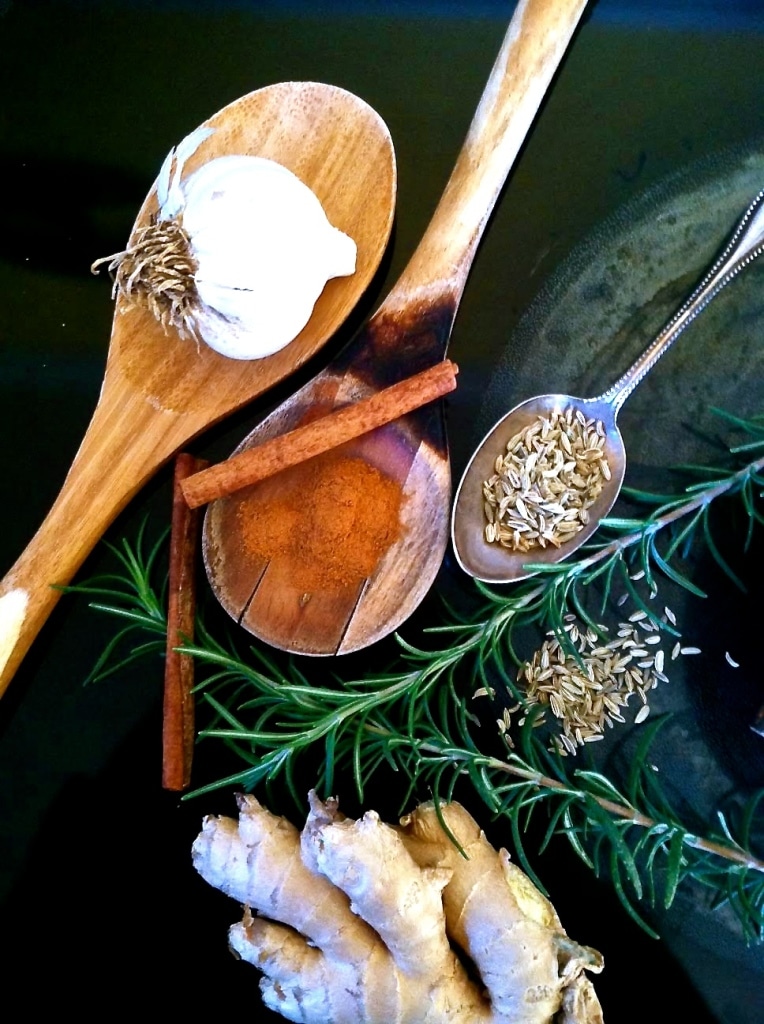 Cooking with Medicinal Herbs
Nutritionist and Herbalist Lindsay Kluge shares how to include nutritious, medicinal herbs into your favorite meals.
Here are some of my favorite medicinal herbs to cook with that provide added nutrients, powerful medicines and delicate flavors.
Cinnamon. This is the ultimate addition to any food that is higher in sugars (like cakes, cookies or even fruit smoothies). Cinnamon helps to balance blood sugar and is great to help with glucose modulation throughout the entire body. Add about 1 teaspoon to your smoothies or up to 2 tablespoons to baking recipes to start with. It is also a warming circulatory tonic – great for the colder weather we are experiencing now!
Rosemary. In culinary doses (about 750mg daily), rosemary has been shown to boost cognitive function, memory and brain sharpness significantly over a short period of time. I love adding this herb to my soups, roasted chicken or even simple cookies for a subtle and sweet flavor with a added brain boost. You can read more about rosemary from my previous bog right here.
Fennel: This is a tremendous digestive aid to foods that are otherwise harder to digest. You may notice that fennel is often included with meats that you buy (like sausages) for just that reason. You can add about 1/2 teaspoon to soups, turkey/beef burgers, or any food that causes you digestive distress. You can also make a delicious tea by steeping 1/2 teaspoon of fennel seeds in 1 cup of hot water for about 7 minutes and drinking after meals.
Ginger: This is one of my favorite medicinal herbs to add to soup and also vegetables for its warming, calming effect on the digestive tract. Ginger modulates digestion by either speeding it up or slowing it down and also quells nausea and upset stomachs. I love adding some minced ginger to some miso and drizzling it over steamed broccoli, collards, kale or over stir-fry veggies. Adding about 1/2 an inch of fresh ginger to your winter soups and stews adds a nice kick of added warmth to get your circulation moving!
Garlic: Maybe everyones favorite medicinal herb, garlic is powerfully anti-bacterial and anti-microbial and an excellent addition to almost any foods. You can infuse your olive oil with garlic by adding about 5 minced cloves of fresh garlic to 1 cup of olive oil and let it sit for several days. Usually, I recommend cooking it just a little to make it easier on the stomach, however if you've got an acute cold, 1 clove of raw garlic is really effective at battling a cold. Including garlic in with your daily meals is an easy and delicious way to boost your immune system just by eating dinner.
Looking for Help with Healthy Eating and Cooking For Yourself?  Contact our office at (804) 977-2634 to book an appointment with our Nutritionist and Herbalist, Lindsay Kluge.
About the Author:
Lindsay Kluge is a Clinical Herbalist & Licensed Dietitian Nutritionist and received her Masters of Science degree in Herbal Medicine from the Maryland University of Integrative Health in 2012. She has been with Richmond Natural Medicine since 2013, and specializes in therapeutic holistic nutrition, circadian rhythm balance and sleep physiology, digestion, and Ayurvedic nutrition. She offers individualized nutrition and herbal medicine consultations that include meal planning support, custom compounded herbal formulas, nutrition guidance and general wellness support.  Learn more about services that Lindsay offers at Richmond Natural Medicine by clicking HERE.