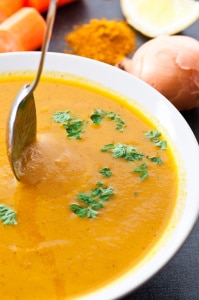 Favorite Fall and Holiday Recipes
These recipes are great for sharing or eating as leftovers!
This time of year is my favorite to break out the crock pot and giant soup pots and make some warming, nourishing meals to share with the family. I like the below recipes because they make large batches and are mainly vegetable based, providing lots of extra nutrients within a season that is bombarded with sugary treats. Many of my favorite autumn recipes have warming spices to counter the cold energy of the season to help keep us balanced within the season. Also (obviously, from what you see below) I tend to eat more heavier foods this season, more thicker and rich foods which keep me warmer and more grounded.
Chicken Pot Pie (Adapted from The New Best Recipe Cookbook)
1.5 lbs chicken thighs
2 cups chicken broth
1.5 tbsp olive oil
1 large onion, chopped
3 large carrots, peeled and chopped
2 cups corn
1 cups peas
4 tbsp ghee (or unsalted butter)
1/2 cup whole wheat flour
1.5 cups milk
1/2 tsp thyme
1 tsp rosemary
1 tsp sage
Make biscuit dough and refrigerate until ready to use.
Preheat oven to 400F.
Put the chicken and broth in a large dutch oven or stock pot over medium heat. Cover, bring to a simmer and let simmer until the chicken is just done, about 10-15 minutes. Transfer the chicken to a large bowl, saving the broth in a measuring cup.
Increase the heat to medium/high and heat the oil in the now empty pan. Add the onions, peas, corn and carrots and sauté until just tender, about 5 minutes. While the veggies are sautéing, shred the chicken into bite sized pieces. Transfer the cooked veggies to a bowl with the chicken. Set aside.
Heat the ghee over medium heat in the again empty pan. Add the flour and cook together about 1 minute. Whisk in the reserved chicken broth, milk, any accumulated chicken juices and the thyme, sage and rosemary. Bring to a simmer, then continue to simmer until the sauce fully thicken, about 2-3 minutes.
Pour the sauce over the chicken and veggie mixture and stir. Pour the mixture into a 13×9 baking dish and bake for 30 minutes (until tiny bubbles are visible on the sides).
Top with the biscuits and bake for another 20 minutes (or until the biscuits are golden brown)
Buttermilk Biscuits
3 cups organic all purpose flour
2 tbsp honey
4 tsp baking powder
1 tsp salt
1tsp baking soda
Mix all of these dry ingredients together in a large bowl.
Add in 3/4 cup butter, cut into quarter inch cubes with your hands and mix together until batter turns crumbly.
 Pour in 1 cup organic, pure buttermilk and mix well, yet minimally.
Spread out a thin layer of flour and roll out dough with w rolling pin. Sprinkle the top with a thin layer of flour and fold the dough over. Roll back out, flour the top and roll over again. Do this about 3-4 times.
 Cut into biscuit shapes and place the dough on top of the veggie mixture. Bake for 20 minutes.
Gingery Butternut Squash Soup
2 yellow onions (chopped)
2 tbsp fresh ginger (peeled and minced)
In a large soup pot, sauté in 1 tbsp coconut oil until onion is translucent.
2 apples (peeled, seeded and chopped)
1 butternut squash (peeled, seeded and cut into cubes)
4 cups chicken or vegetable broth
Add to put and bring to a boil. Reduce heat and simmer until squash and apples are tender. Puree in blender until smooth. Add salt and pepper to taste
 Curried Carrot Soup
1 onion (chopped)
1 clove garlic (minced)
2 stalks celery
In a large soup pot, sauté in 2 tbsp coconut oil until soft
2 pounds carrots (chopped)
6 cups vegetable broth
2 tsp curry powder
Add and bring to a boil. Simmer until carrots are tender, about 20 minutes. Remove from heat, cool slightly and puree.
 1 tsp lemon juice + salt and pepper to taste
Add and stir well.
Applesauce muffins (one of my favorites for the mornings or brunch)
1 cup of ghee (or 2 sticks butter)
1 cup maple syrup
2 large eggs
2 cups applesauce
4 cups whole wheat flour
2 tsp baking soda
1 tsp salt
1 tbsp cinnamon
2tsp ground allspice
1 tsp nutmeg
1/2 tsp ground cloves
Preheat oven to 350F. IN a large bowl, cream together the ghee and maple syrup.
Add eggs and mix well. Stir in applesauce, flour, baking soda, salt and spices, mixing well.
Pour into greased muffin pans and bake for 20 minutes.
Springle warm muffins with extra cinnamon if desired. Makes about 2 dozen large muffins.
Looking for Help with Your Diet and Cooking For Yourself?  Contact our office to book an appointment with our Nutritionist, Lindsay Kluge.
About the Author:
Lindsay Kluge is a Clinical Herbalist & Licensed Dietitian Nutritionist and received her Masters of Science degree in Herbal Medicine from the Maryland University of Integrative Health in 2012. She has been with Richmond Natural Medicine since 2013, and specializes in therapeutic holistic nutrition, circadian rhythm balance and sleep physiology, digestion, and Ayurvedic nutrition. She offers individualized nutrition and herbal medicine consultations that include meal planning support, custom compounded herbal formulas, nutrition guidance and general wellness support.  Learn more about services that Lindsay offers at Richmond Natural Medicine by clicking HERE.