We are fortunate today to have access to countless areas of research and medical breakthroughs. This includes a better understanding and appreciation for the medicines that have existed and been used effectively by our ancestors for hundreds of years.
Through clinical trials and advanced research, we can learn more about the botanical and nutritional medicines our ancestors used in a very scientific and clinical way. There is also a tremendous amount of traditional use and study on the therapeutic potential of herbal medicine and nutrition practices and countless case studies illustrating their positive influence on a variety health issues. We are now able to utilize the traditional study of western herbs and time honored nutrition along with the modern scientific research together to generate a well-informed understanding of the therapeutic potential of medicinal plants and holistic nutrition.
Nutrition
It is an undeniable fact that good nutrition is an absolute necessity to a healthy body, mind and spirit, as well as providing priceless preventative measures for chronic disease. From a holistic nutrition perspective, there is no one "right" diet for everyone to follow, and no single food philosophy to follow either. Rather, a holistic nutrition approach takes into account you, the individual, your basic needs, your constitution, you geographic, your family history, your current and past medical status and also your wellness goals. Most importantly, learning and practicing good nutrition is a key to your understanding to make good decisions for years to come. Food not only provides basic prevention from disease including heart disease, diabetes and cancer, it also influences your mood, gut health, physical appearance, endurance, recovery, mental health, and overall vitality. The foods we eat have effects on every single organ system within the body as well as our microbiome and immune system. Good nutrition, in combination with herbal medicines, can be an ideal therapy for each individual.
Herbal Medicine
Herbal medicine has a unique offering in today's demand for individualized treatments and personalized medicine. In our current culture that has divided medicine into specialists for every illness and field of practice, and specific labels for everything, we need to understand that sometimes the answer is not to isolate, but to look at the body as a whole. Symptoms and dis-eases sometimes present themselves differently from person to person. Perhaps a broken arm is a broken arm in every person but the way our internal systems function, the way hidden illnesses manifest, is very different from person to person and can often be misdiagnosed because of our tendency to isolate and label.
By choosing to see an Herbalist & Nutritionist, you are gaining very specialized knowledge and a tailored approach to your health needs. You will be in the care of someone who understands appropriate dosing of herbs, interactions with pharmaceuticals, energetic qualities of matching herbs and foods with people, and will be provided a custom compounded herbal formula for your specific needs along with a holistically tailored nutrition plan. You will also be in the care of someone who will look at you as a whole person, rather than a specific set of symptoms that need to be classified or categorized. By looking at the body as a whole, by identifying areas – perhaps more than one – that can use support, the Herbalist & Nutritionist looks to support you – all of you – to help you back to better health.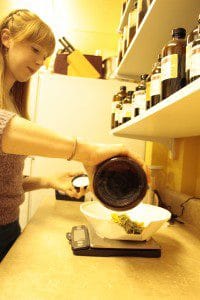 What to expect from a Nutrition & Herbal Medicine appointment:
The first appointment is 1.5 hours and will cover health history, primary concerns, a comprehensive body system review, a thorough nutritional assessment and a tongue and pulse assessment. We will set health goals and answer any questions you have about your overall health (and illness if applicable). We may focus more heavily on nutrition, or more heavily on illness or other pathologies depending on the person. Once we establish a clear direction, I will custom compound an herbal formula to address your specific needs and develop a comprehensive nutrition and wellness plan. I will also explain each herbal choice and how it will affect your physiology. We will discuss interactions with current medications and go over appropriate dosing and frequency of your herbal formula.
The follow-up appointments are all 1 hour and usually 4 weeks apart. These check-ins are important to note improvements, advances, any changes in health, and to adjust your herbal formulas and dosing as needed to support your state of change and recovery.
What can Herbal Medicine & Nutrition be used for?  Quite nearly everything.   Most common health benefits include:
• Digestion Enhancement
• Weight Loss
• Circadian rhythm and sleep balance
• Women's health and wellness/Hormone balance
• Central nervous system stress and anxiety (this is a really common one)
• Seasonal immunity and allergies
• Energy and stamina / adrenal support
• Pain management and mobility support
• Skin issues, including acne, eczema dermatitis and psoriasis
• Easing the side effects of conventional pharmaceutical medications (another very common one)
Lindsay Kluge has been a practitioner with Richmond Natural Medicine since 2013 where she has helped clients as a Licensed nutritionist and Clinical Herbalist. She received her Masters of Science degree in Herbal Medicine from the Maryland University of Integrative Health (MUIH) in Laurel, MD. She offers one-on-one nutrition appointments, with Grocery Tours and even help with cooking and meal preparation.  If you'd like more information about an appointment with Lindsay then please visit our Book An Appointment Page Here.
Looking for more information? Check out our Frequently Asked Questions on Herbal Medicine
Meet Richmond Natural Medicine Clinical Herbalist Lindsay Kluge M.Sc, CNS, LDN