Lindsey Wrable
Yoga and Meditation Teacher and Reiki Healer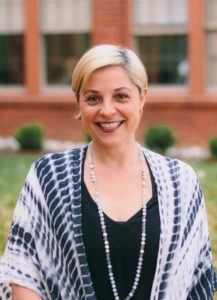 Yoga is the journey of the self, through the self, to the self."

Bhagavad Gita's words aptly describe the journey yoga has taken me on and I look forward to sharing this ancient healing practice with all of you!

 A few years ago, I found myself in a dark place.  Every morning was a battle to get myself out of bed.  I awoke unenthused about the day and pessimistic about what was to come.  I felt lethargic, uninspired, and downright sad.
That is until I discovered yoga and my whole world was transformed.   On a whim, I walked into a yoga studio and after only one class I could feel a shift in my mood and energy.  From that point on I immersed myself in the study and practice of yoga.
Yes, yoga is a series of physical postures and these movements offer numerous physical benefits such as increased flexibility and strength, improved sleep, and can also help to alleviate pain.  But, in addition to the physical, yoga can also be transformational in many other ways.  Yoga teaches you to settle your mind in a world consumed with chaos and overstimulation.  It encourages self-love and compassion for others.  Through yoga, one is able to create harmony and balance between the mind, body and spirit.
Meditation is another powerful tool that can help create silence and peace within.  Through meditation, one is able to reign in their natural, compulsive thinking and find a moment of stillness. Meditation brings the brainwave patterns into a relaxed state which promotes healing by decreasing anxiety and promoting happiness and creativity.
During my training, I explored the science of yoga and meditation and was able to experience the benefits of a consistent practice first hand. The training was physically, mentally and spiritually challenging but allowed me to open my body, mind and heart.  Through deep self-exploration and sharing with others, I learned to become a compassionate, heartfelt teacher and spirit.
I am excited and inspired to share the practice of yoga and meditation at Richmond Natural Medicine.  The light within me sees and honors the light within each and every one of you.
-Namaste-
Lindsey Wrable is a 500 HR Registered Yoga Teacher and Level 2 Reiki Practitioner and offers private yoga, meditation, and mindfulness sessions at Richmond Natural Medicine. She is familiar with different styles of yoga and is able to create a personalized practice just for you.  She specializes in mood management and is passionate about providing relief to anyone who suffers from compulsive thoughts, anxiety, depression, low self-esteem, and a feeling of disconnect with self and others. To schedule an appointment with Lindsey Wrable, our Yoga and Meditation Teacher, please contact the office at 804-977-2634.
[/vc_column_text]
/vc_column][/vc_row]