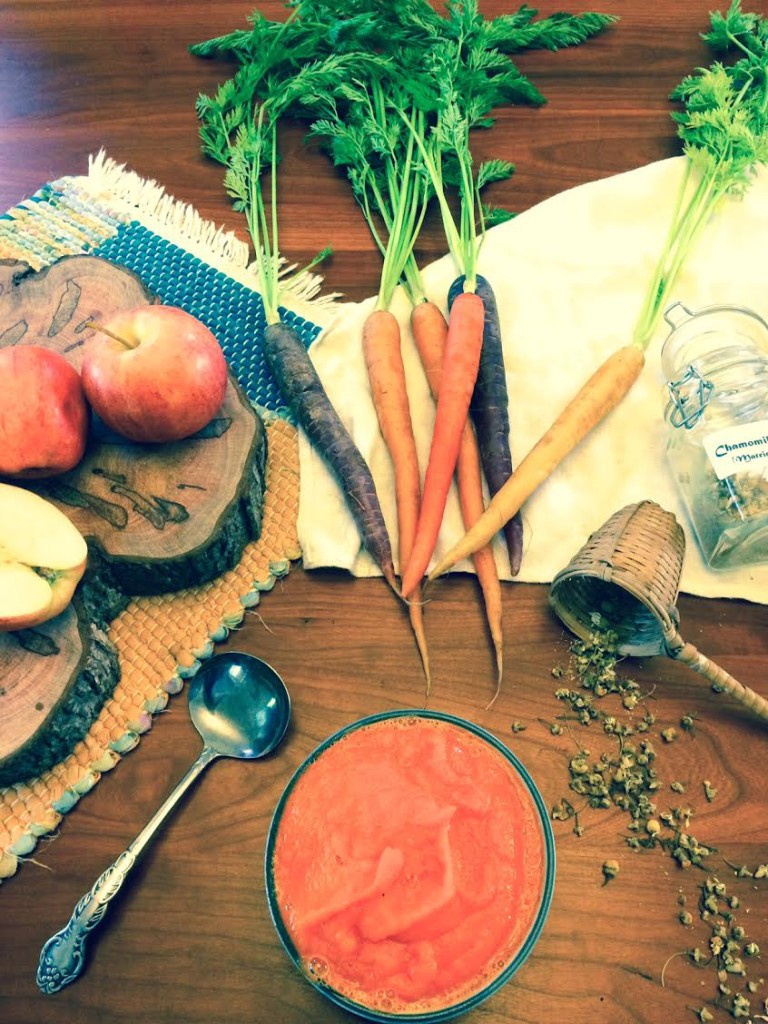 May Recipe Roundup
April showers bring May flowers…And fresh, colorful produce perfect for cooking lighter dishes!  Please enjoy my May Recipe Roundup as much as I have.
This is one of my creations, inspired by a past trip to the United Plant Savers in Ohio.
2 cups carrots, chopped (4-5 medium carrots)
1/2 gala apple, seeded and chopped
1/4 fennel bulb, chopped
1/2 teaspoon salt
1/4 teaspoon roasted garlic powder
2 tablespoons honey
1 tablespoon chamomile flowers
1.5 cups hot water
Place carrots in a small pot and cover with filtered water. Boil for 10 minutes.
While carrots are boiling, bring 1.5 cups of water to a boil in a kettle, and steep 1 tablespoon of chamomile flowers in the freshly boiled water. Let steep for 10 minutes, and strain.
Once carrots are boiled, strain, and add to a food processor or vitamix along with the apple, fennel bulb, salt, garlic powder and chamomile tea.
Blend together until smooth.
Serve immediately (or chilled on the warmer days!).
This is one of the most creative spring time recipes I've seen in a long time, and I love the addition of spring dandelion flowers! This is a great recipe for the gluten free folks while also being vegan to boot.
I've been using "mason jar salads" for a long time when I bring my lunch to work, but have never gotten my act together enough to write a blog post about it. Eating Bird Food (as always) has a great write up and round up of several different salad recipes so this will never get old. Perfect to keep a healthy lunch with you, even on the busiest days.
I have been making this breakfast cereal for weeks now and I love it. One large batch will last me a couple of weeks, and takes about 10-12 minutes to prepare in the morning with some fresh fruit and honey. It's filled with nutrient dense whole grains and it's a filling but hot sugary and heavy like so many other hot cereals. This may introduce you to a few new whole grains too, which is always a good thing.
I've made this a few times, and it's sort of become my go-to default meal. It uses one my favorite grains, millet, which has a delicious nutty flavor and it's easy and quick to prepare. It's easily adaptable for any vegetables you have on hand (carrots being my favorite).
If you are interested in adding other recipes such as these into your repertoire,
contact our office at (804) 977-2634 to book an appointment
with Nutritionist and Herbalist, Lindsay Kluge.
About the Author:
Lindsay Kluge is a Clinical Herbalist & Licensed Dietitian Nutritionist and received her Masters of Science degree in Herbal Medicine from the Maryland University of Integrative Health in 2012. She has been with Richmond Natural Medicine since 2013, and specializes in therapeutic holistic nutrition, circadian rhythm balance and sleep physiology, digestion, and Ayurvedic nutrition. She offers individualized nutrition and herbal medicine consultations that include meal planning support, custom compounded herbal formulas, nutrition guidance and general wellness support.  Learn more about services that Lindsay offers at Richmond Natural Medicine by clicking HERE.