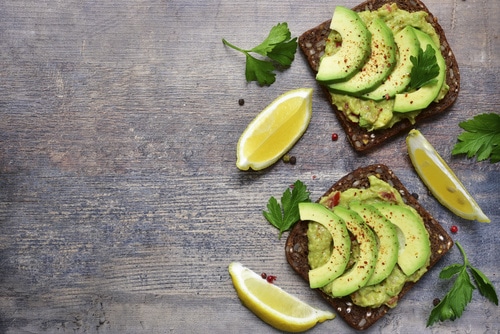 5 QUICK BREAKFAST IDEAS
The most important meal of the day (BREAKFAST) is quite often the most overlooked meal of the day for many people.
In nutrition appointments, I hear over and over again the reasons why people skip breakfast and it usually has to do with lack of time in the morning and also lack of appetite. If you've gone several months (or even years!) without eating breakfast, then your  appetite adjusts to that and it's difficult to incorporate eating breakfast back into your routine if your body has not yet adjusted. It takes about 3-4 weeks to slowly introduce foods into your morning routine for your digestive system to adjust and begin to expect food earlier in the day.
I always recommend breakfasts that are high in protein and as colorful as possible. Morning meals don't have to be complex or time consuming. In fact, most morning breakfasts can be prepped the night before for minimal work in the morning.
Below are 5 quick breakfast ideas that are high in proteins, colorful with fruits and vegetables and easily prepped for minimal time in the kitchen in the morning:
2 egg scramble with (pre-chopped) red pepper, onion and mushrooms
Pre-chop all the veggies once during the week and just add in ½ cup to your morning egg scramble.
Quick cooking oats / overnight oats with ¼ cup walnuts, blueberries, hemps seeds and honey
Quick cooking oats take 3-4 minutes to prepare in the morning. Adding in nuts and seeds for added proteins and fresh fruits for color and nutrients make a delicious and hearty breakfast.
2 pieces whole grain sprouted toast with smashed avocado, sea salt and hemp seeds
Sprouted whole grain toast is an excellent carrier for so many things! Top with smashed up avocado and hemp seeds, nut butter and banana or greek yogurt and fresh fruits for protein rich options.
1 cup plain, full fat yogurt with fresh fruits, almonds and honey
Siggi's is an excellent yogurt that's high in protein and low in sugar that makes a delicious creamy protein rich option for a quick breakfast. Top with fresh fruit and honey for added sweetness.
Protein rich smoothie with banana, blueberries, nut butter, almond milk and hemp seeds
You can also add additional protein powders to morning smoothies to enhance the protein content. I always recommend making a smoothing and then pouring into a bowl, top with a bit of granola and eat like cereal. This tricks your stomach into staying fuller longer.
If breakfast is something you're not allowing time for – consider batch prepping some of the above options to save more time. Having something that is protein rich and nutrient dense in the morning is extremely beneficial to maintaining blood sugar balance and also enhancing your energy and cortisol production early on in the day. Start with just half a serving if you're not usually hungry in the morning and slowly work your way up to a full serving for your stomach and appetite to adjust.
Looking for more personalized meal suggestions for you and your family? Consider scheduling a  nutrition appointment with RNM's Licensed Dietitian Nutritionist Lindsay Kluge for a custom nutrition plan that fits your needs and lifestyle.
About the Author:
Lindsay Kluge is a Clinical Herbalist & Licensed Dietitian Nutritionist and received her Masters of Science degree in Herbal Medicine from the Maryland University of Integrative Health in 2012. She has been with Richmond Natural Medicine since 2013, and specializes in therapeutic holistic nutrition, circadian rhythm balance and sleep physiology, digestion, and Ayurvedic nutrition. She offers individualized nutrition and herbal medicine consultations that include meal planning support, custom compounded herbal formulas, nutrition guidance and general wellness support.  Learn more about services that Lindsay offers at Richmond Natural Medicine by clicking HERE.